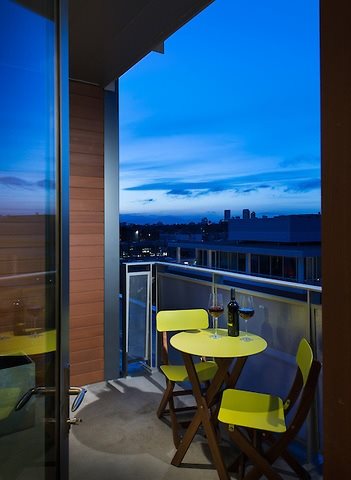 The weather is getting warmer, and the nights are getting longer, which means it's the perfect time to wake up and enjoy a fresh cup of coffee or unwind from a busy day with a cool drink on your balcony. So spruce up your balcony with these trendy balcony designs.
Comfortable Seating
Sure, a folding camp chair might be the easiest, most "Colorado" thing to do. But try adding style with a small sofa with pillows and a coffee table to make it cozy. If you don't have room for a couch, small chairs and box seats are a creative way to enjoy your balcony.
Add Color
Greenery adds depth, color, and privacy to your balcony. You could add a small wall garden or planter box to bring a little green and comfort to the space.
LED Mood Lighting
LED lights are easy to find and fun to add a little ambiance to your balcony. Either string them up stylishly or place individual lights strategically to set the perfect mood.
Cozy Carpet
A great way to make your balcony a little more comfortable is adding a small carpet or rug. It will soften the look and add quite a bit of character to your balcony.
It doesn't matter if you're waking up or enjoying a beautiful summer sunset; spending time on your balcony is worth every second in Colorado. Check out these balcony designs and others to help inspire you to spruce up your balcony this summer. If you're looking for a new balcony to hang out on this summer, look no further than The Residences at Fillmore Plaza in the heart of Cherry Creek North.