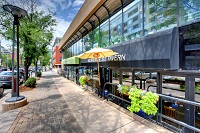 Coloradans love their dogs. For some, dogs are kids, and for everyone, they're certainly family. So it only makes sense that Cherry Creek North is promoting time with your pup. During the month of June, it's Dog Days of Summer.
Enjoy walking the streets of Cherry Creek alongside your four-legged friends. You and your dog can safely enjoy lunch on a patio or exploring through four-legged friendly shops.
The neighborhood has over 30 patios for you and your furry friend to enjoy safely. Find your favorite patio here.
Who doesn't love shopping? Shopping with your dog is even better. During the Dog Days of Summer, you and your dog and stroll through 21 different dog-friendly shops and galleries. Here's a list of pet-friendly shops.
Now that the weather is beautiful and shops and restaurants are open, this is the perfect time to get out and enjoy the fresh air. The best part, The Residences at Fillmore Plaza, is right in the heart of Cherry Creek. You can access all of these shops within just a few minutes from your front door.
At The Residences at Fillmore Plaza, we love pets! We're a pet-friendly community. We have a special dog-grooming room for you to pamper your pup. If you and your dog are looking for a new luxury apartment, call today or take a virtual tour. You'll see what pet-friendly living is all about. Learn more about The Dog Days of Summer in Cherry Creek North.