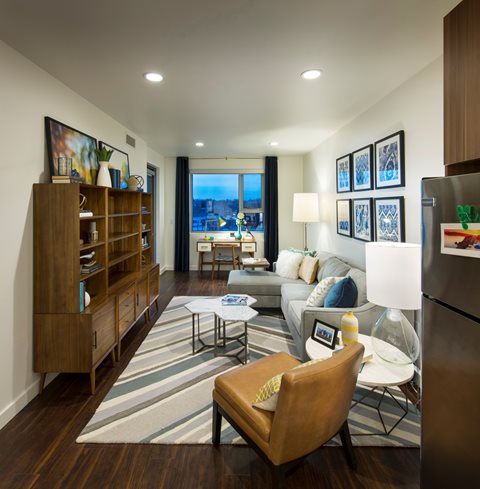 Luxury apartment living is wonderful for many reasons, but sometimes it can be a struggle to find a little extra space. Here are a few hacks to help you conquer your space challenges and create an open floor plan in your apartment.
Mount Your TV
Think about how much floor space an entertainment center takes — quite a bit. So lose the entertainment console and mount your TV on the wall.
Need a Workspace? Have a Wall Desk
Don't take up valuable floor space. Hang your desk and shelves on the wall to create more space and a unique look.
Paint Neutral Colors
Yes. Sometimes you want to add an accent wall to create a mood, but when you're in a smaller space neutral colors are the way to go. Painting your walls with neutral colors will create the illusion of more space.
Get Creative with Storage
One of the biggest challenges to overcome when living in a smaller space is storage. With a little creativity and ingenuity, you can have plenty of room and space. Try using built-in shelving and furniture with hidden storage to create useable square footage.
Create More Height
Make your living space appear larger with the illusion of more height. Extend your cabinets and shelving to the ceiling to fill that blank space and increase the height of your apartment.
Try these tricks to create a little more square footage the next time you're feeling a bit cramped in your apartment. If you're looking for more space and a little more luxury in the heart of Cherry Creek North, check out The Residences at Fillmore Plaza. With studio plus, one and two bedroom apartments available, you have plenty of spacious, luxurious options. Schedule a tour today.